Prof. Vidali's Astrophysics and Surface Science Research Laboratory
Astrophysics & Surface Science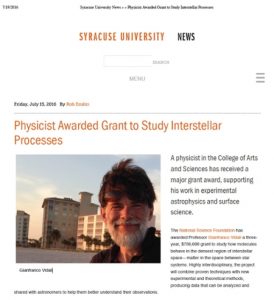 Prof. Vidali's research is in Astrophysics (formation of molecules in the interstellar medium and in planetary environments) and in Surface Science (interaction of atoms and molecules with surfaces of solids). Prof. Vidali's research has been written up in ScienceNews, Today's Science, Scientific American Online, The Washington Post – online, Popular Mechanics, Nature News – online, Chemical Engineering News, Il Sole 24 Ore, and others. The National Science Foundation has awarded Professor Gianfranco Vidali a three-year, $736,600 grant to study how molecules stick, diffuse and depart dust grains ("stardust") in the densest region of interstellar space—matter in the space between star systems. To read the announcement, Click here.
Talks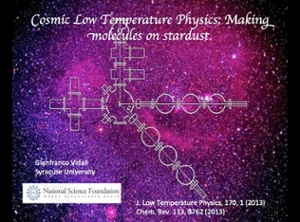 Prof. Vidali enjoys talking about astrophysics/astrochemistry with colleagues, students and the lay public. He has given presentations at high-school, continuing education universities, colleges, and at national and international meetings, workshops, and symposia. Most recently he gave presentations at: Union College (2019), American Chemical Society 256th National Meeting – Boston (2018), Max Planck Institute(Garching, 2018), COSPAR-Committee on Space Research (2018), American Chemical Society 254th National Meeting (Washington DC, 2017), American Chemical Society 253rd National Meeting (SanFrancisco, 2017), Workshop "Ice Age – the Era of the JWST" (Leiden, The Netherlands, 2016), Pierre and Marie Curie University (Paris 2016), 8th Cosmic Dust Meeting (Tokyo, 2015), IAU General Assembly- Laboratory Astrophysics Division of AAS (Honolulu, 2015), Astrobiology Science Conference (Chicago, 2015), Indiana University of Pennsylvania (2015), 2nd Workshop on Experimental Laboratory Astrophysics (Kauai, 2015)), Columbia University – Nevis Laboratory (2014), Workshop on Interstellar Matter (Sapporo, Japan, 2014), COSPAR 2014 (Moscow. 2014), ACS National Meeting (Dallas, 2014), New York State Section of APS (SUNY- Oswego, 2014), and Faraday Discussion (Leiden, the Netherlands, 2014). He can be contacted at: gvidali@syr.edu .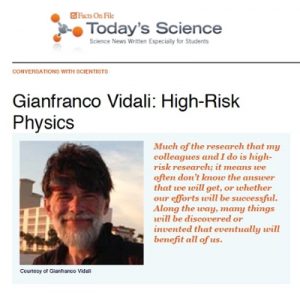 An Interview of Gianfranco Vidali appeared inToday's Science (July 2015)
Current projects
Experiments: study of processes of adsorption, diffusion and desorption of atoms, radicals and molecules on/in ices and dust grain analogs in simulated interstellar and planetary environments. Experiments are now conducted at the Max Planck Institute for Astronomy. See Research and News tab for details.
Theory: Interaction of hydrogen atoms with graphene. Simulation of processes of molecule formation in interstellar medium environment using data obtain from the laboratory.
Motivation
Molecular hydrogen, the most abundant molecule in the universe, is formed mostly on interstellar grains; the effort to find how molecular hydrogen forms reflects the importance of this molecule in astrophysics and astrochemistry: molecular hydrogen aids the collapse of a cloud that eventually will become a star, and it intervenes – either neutral or charged – in most reactions leading to other molecules that have been found in space. The other molecule we are interested in, water, is made by the interaction of hydrogen and oxygen. Again, most of the water found in space is formed on dust grains. How water forms on grains and how it is retained on them is important in astrobiology and in understanding how water was incorporated in planets like the Earth. Furthermore, we are studying how atoms and molecules diffuse in amorphous water ice, the analog of ices coating stardust, in order to understand how reactants reacts and form molecules in interstellar ices.